Curriculum Vitae
| | |
| --- | --- |
| Name | Martin Manninger |
| Academic degrees | Mag. rer. soc. oec. Dipl.-Ing. Dr. techn. |
| Date of birth | 1969-06-27 |
Education (in German)
| | |
| --- | --- |
| 1975-1979 | Volksschule Arbesbach |
| 1979-1983 | Hauptschule Arbesbach |
| 1983-1988 | Höhere technische Bundeslehranstalt Hollabrunn (Abteilung für Steuerungs- und Regelungstechnik) |
| 1988-1994 | Elektrotechnik an der Technischen Universität Wien (Studienzweig Industrielle Elektronik und Regelungstechnik mit Schwerpunkt Computertechnik) |
| 1989-1995 | Wirtschaftsinformatik an der Universität Wien (Studienzweig Betriebsinformatik mit Schwerpunkt Operations Research sowie Organisation & Führung) |
| 1995-1998 | Doktorat der technischen Wissenschaften an der Technischen Universität Wien (Thema: Netzwerksicherheit durch Chipkarten) |
Work
| | |
| --- | --- |
| 1995-1998 | Research Assistant at the Institute of Computer Technology, University of Technology, Vienna (Main Topics: Smart cards, Internet, Field bus systems) |
| 1998-2001 | Project Manager of Smart Card Projects at Austria Card GmbH |
| 2001-2010 | Department Director at Austria Card GmbH |
| 2011- | Entrepreneur |
Photographs
Here are some personal photographs.
This picture shows Arbesbach (where
I come from), a little village at the
western edge of the Waldviertel
(in English: wood-quarter). The tower in
the background is the most famous attraction in
our village and it is called Stockzahn des
Waldviertels.

This photo was taken 1990 in Greece.
My taste has developed since then ... and:
φοβοῦ τοὺς Δαναοὺς καὶ δῶρα φέροντας




I had to travel to Australia (1995) to find out
that I have my own bridge.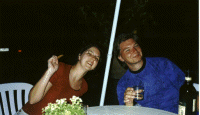 When my wife Sabine and I were
in the Toscany in the year 2000,
we really enjoyed the menues.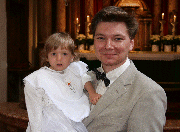 Our daughter Xenia accepted her christening with a
good deal of astonishment (2005).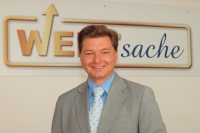 In 2011, I started my own business
wertsache.at. In my shop I offer
financial consulting, based on my long-term
stock market experience, and I trade
precious metals (coins and bars), ...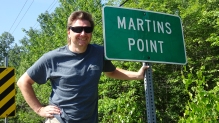 ... and I do have a point! (Canada, 2016)






.